arduinna
(If you want to link to this and keep the cut tags intact so it isn't overwhelming, link to the archive page:
http://arduinna.dreamwidth.org/2012/05/24/
)
So I have a tumblr (as
aka-arduinna
), and have been trying to figure it all out. Which is a whole lot less easy than it should be.
Tumblr in general takes the attitude that it's so incredibly intuitive that nothing needs to be explained, even in the Help pages that you'd think would be, you know, helpful. But if it's intuitive, it's for people who aren't me; I find it ridiculously opaque and cumbersome and illogical, and it's taken me months to figure out and/or remember what to click to do what. I wind up doing desperate web searches hoping someone somewhere has explained things, since the Tumblr help files are largely useless for the basics.
I've been frustrated with the fannish tutorials I've stumbled across, since most of them seem to be "First, get a tumblr. Second, here's a list of tumblrs I follow to get you started!" without actually explaining how to
use
the site. My impression is that once you're comfortable on it, you just forget how freaking opaque it is to start with. (Or they're people for whom Tumblr really is intuitive and simple, and don't realize that for some of us, it's really not.)
I have found some posts about specific things that have been very useful, for things like "how to get a permalink for a post" and "how to add a tag cloud", which is great, but the lack of a basics post was really getting to me.
So I figured, well, I should do something about that.
First, a GIANT CAVEAT: I still pretty much suck at tumblr. I've been poking tentatively at it for months, badly hampered by the speed, the lack of convo, my cultural conditioning not to pass other people's content along but rather to either respond directly or link back to it, and the rampant flashy animations that make my eyes hurt. But otoh I figure that means I still have a pretty good grasp on what stuff may be confusing, so.
(You can't avoid the flashy animations, as far as I can tell. Figured I should say that upfront.)
Second, a smaller caveat: my tumblr is in the default free theme, at least for the moment. All my images and instructions relate to that; I have no idea how they may change with other themes. But hopefully this will be enough to at least point you in the right direction.
So! Let's talk tumblr.
Using tumblr without an account
Tumblr must have just updated things, because the last time I checked (a few days ago), I could not figure out a way to search for things, at all, unless you were logged in. But huzzah, the site's front page now has actual content, and a search box, for non-logged-in people! \o/

So if you don't want a tumblr account, you can find tumblrs you like (via recs, etc.) and make RSS feeds of them to follow on your preferred platform. And now you can find content using that search box on the front page, underneath the short list of popular tags and short list of featured users.
You can also bypass the search box entirely and go straight to the address bar, and type the tag in you want:
http://tumblr.com/tagged/YOURTAG
(If you're on a mobile device, you need to do the address-bar thing, whether you're logged in or not; tumblr doesn't seem to think search boxes are required on mobile layouts. IDK.)
It's still going to be easier to learn and play with tumblr if you have an account and are logged into it, though, since you'll be able to participate and do things like save your searches. So the rest of this tutorial is still based on "get a tumblr and go from there".
So first,
sign up with tumblr
. Once you've got an account, you can start customizing.
Customizing your tumblr
There are three places to customize your tumblr:
Your Settings page


Link found on your blog page with your editable posts

For your icon, reply settings, facebook/twitter, rss feeds, post-by-email, language/timezone, directory settings
Your Preferences page

Found via the gear icon on your dashboard or blog page

For your email addy and password, posting style (rich text v. plain text v. markdown), dashboard structure, language (again), email notifications, applications that are allowed to access tumblr (e.g., Flipboard on ipad)
Your Customize Themes page

Let's break those down a bit:
Settings
It's been a while since I created my tumblr, but I think that when you do, you're automatically sent to your Settings page, to set up the basics. (If not, you can get there by going to
http://www.tumblr.com/blog/YOURNAME/settings
).
This is where you:
upload your icon ("portrait photo")

allow people to reply to you

choose whether or not to let people ask you questions

allow people to send in submissions if you have that sort of a tumblr -- e.g., Texts from Hillary Clinton was a submissions-based tumblr)

choose whether to share your posts on your Facebook or Twitter

find your randomized "post by email" addy

tweak your RSS feed settings

set your language and timezone

choose whether to allow your blog to be indexed

set your blog as NSFW if needed

delete your account if you're done with it
Once you've gone through the basics there, you'll be up and running, and can either dive right in (
skip down to "navigating tumblr"
) or make the place a little more comfortable for yourself first.
Preferences
The Preferences page is the little gear icon at the top of your dashboard and "blog" page. It's pretty basic; this is where you:
Set your email address

Change your password

Choose how you want to post (rich text vs. plain text w/html vs. markdown)

Choose how things display on your Dashboard


full-size images vs. minimized (clickable up to full size)

whether to show notifications (e.g., if someone follows you)

whether to share the posts you like, so other people can browse through your favorites

whether to enable "endless scrolling" so you never have to click "next page"

whether to show a unified inbox, so you can see all of your messages in one place
Set your language

Set your email notifications

Revoke access from applications you've allowed to access your tumblr (e.g., Flipboard on the iPad)
Customize Theme
This is where you pick your theme and your fonts/colors, as well as where you can add some custom text. You can get here a few ways:
On your Preferences page, click "Customize blog"

On your "blog" page, click "Customize themes"

On your front page, click the "customize" button
Visual aids!
On your Preferences page:
On your blog page:

On your front page:
This will bring you to a page with lots of dummy text and images, and a column over on the left where you actually do your customizing. (Note: The background on that column should be black. If it's white, it won't scroll correctly and it will be hard to see things. Reload till it turns black, or try a different browser.)
Click "Themes" first, to get your base.
There's a dropdown where you can pick from very broad categories of themes, some free, some paid ("Free" and "Paid" are also categories, usefully enough). The dummy page will adjust to whatever theme you click on so you can preview easily. Once you've found something you like, click "Use", which will bring you back to the main column for customizing.

(If you decide you want the default after playing around with others but don't know where to find it, it's the first theme under the Free dropdown. Alternatively, you can just hit "cancel" instead of "use".)
Now that you've got your base theme, you can make changes to it.
The top box in the customize column shows your theme and has an "Edit HTML" button. Only use that if you're
very
comfortable in html and css. (Although you can click it to admire the ASCII-art "tumblr." at the top of the html file...)
If you are comfortable hand-coding your tumblr,
here's a list of all the variables tumblr uses in its markup
.
If you're not comfortable hand-coding, don't worry, there are some basics you can do further down the page.
But first, underneath that box is a box with two lines in it: Title and Description. Title is the name you want your tumblr to display; description is any other information you want to show (basic profile stuff). Use html in your description text if you want any line breaks or formatting; you can also put links here (again, using html).
This is a draggable box; you can grab the bottom right-hand corner and stretch the box down so you can see everything you add to it, if you want, rather than scrolling up and down.

Underneath that are three sections: Appearance, Pages, and Advanced.
Appearance
Appearance is where you can tweak the layout a bit without actually editing the full html page.
As you make changes here, the dummy page over on the right will change to reflect them, so you can adjust on the fly.
(I think the tags option literally means showing the tags on your posts, not a list of tags you use; I know I didn't have a tag list/cloud on my front page till I added my own.)
Pages
This appears to be for adding permanent pages to your blog, rather than just posts that scroll away. So say you're using tumblr to display your Etsy goods, you can make a permanent page with your shipping options that will be linked on your tumblr so you don't have to keep linking to it in every post.
Or you could set up a master list for your fic/art/vids, and then just keep that updated.
I think.

Advanced
Advanced doesn't actually seem all that advanced, other than the custom CSS box, which is there to support the Edit HTML box, I believe:
Note, this is also a draggable box, if you have a lot of CSS you want to add.
Once you're satisfied with your layout, click Save, then Close.
Adding the things tumblr left out: tag lists and comments
So, two of the things that drove me out of my mind when I started using tumblr was the lack of tag lists or clouds so I could find things again, and the lack of ability to let people leave comments on my posts.
Adding a tag list/cloud
Technically you can add a tag list to your tumblr without going to a third party, but it means hand-coding a list to go in your Description box. If you only have a handful of key tags that you use a lot and want people to be able to find, that will work fine.
To get that, go to your Description box in Customize Themes (
http://www.tumblr.com/customize/
),
and type a list like this:
< a href="
http://yoursite.tumblr.com/tagged/yourtag
" >Your Tag< /a>
< a href="
http://yoursite.tumblr.com/tagged/anothertag
" >Another Tag< /a>
Except close up all the brackets, of course. Separate with < br > for a vertical list, or with a slash or something for a paragraph-style list.
The problem here, of course, is that you need to keep track of which tags you're using, and update the list as needed.
The alternative is to go to a third party for a way to generate the list/cloud automatically. I'm sure there are several; the one I use is this one:
Tumblr Tag Clouds by Heather Rivers
(You can do a test on that site to see what your tag cloud will look like, but it's your basic tag cloud - and if you don't have posts with tags yet, nothing will show anyway.) Once I copied the code, I pasted it into the Description box on the
customize theme
page. Works like a charm, and makes my tumblr feel much less chaotic to me.
Adding commenting
There's no way to tweak tumblr to add comments to your posts; if you want them, you have to go to a third party, specifically
Disqus
.
You'll need to sign up for an account (it's free, and fairly easy to set up). Once you've got that, you can install disqus commenting on a variety of platforms, including tumblr.
Here are the tumblr-specific instructions on installing Disqus commenting.
If you have one of the themes that automatically has room for Disqus commenting, you just need to do one small thing, which is to add your Disqus "shortname" in the appropriate Appearance box on the
customize theme
page.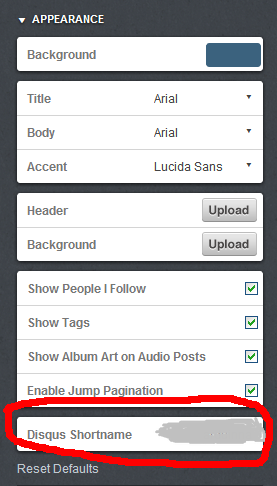 If you're using a theme that doesn't include that field, it's more complicated, but Disqus will walk you right through it.
FWIW, most people won't bother commenting; it's just not how tumblr works. But I feel better knowing that they can if they want to.
Okay, so now you have a tumblr, and it looks the way you want it to. Time to start doing things with it!
Navigating tumblr
Navigating your own tumblr
To go to your own public front page, where all of your own posts live, click on your icon. If you've added a tag cloud, this is where it will appear.

To go to your "dashboard", which is your reading/feed/friends page, there are three options. Click on:


the little house icon, or

the word Dashboard, or

the word Tumblr.
To edit your existing posts, click on your name in the Dashboard navbar. The url for this page is www.tumblr.com/blog/yourname, and no one but you can access it. There's a lot of useful stuff here.

Let's take a closer look at those pages, with visual aids.
Your front page
You'll barely ever see your front page; tumblr generally assumes that what you want is to read your subscriptions, and puts you on your dashboard. (See above, where there are three ways to get to your dashboard, and only one to get to your front page.)
There's almost no navigation help on the front page; you have two links for your "navbar", up at the top right (again, this is default theme):
Your front page is your public face, though. It shows your post, your profile info (if you've added any), your tags (if you've installed the third-party script to make them show when you customized your tumblr), who you follow (if you've chosen to display that), a search box to search your blog or all of tumblr, a link to your archive, etc.
If you've set up your tumblr to allow people to ask you questions, the Ask button will be here, too.
---
If you need to find something you've already posted, this is where to look.
Your dashboard
Your dashboard is your default landing page; if you're logged in to your account and you type "tumblr.com" into your address bar, it will redirect you to your dashboard. This is where you see all the posts from people you're following; you can set this to automatically keep loading posts at the bottom, rather than being paginated (in Settings).
Across the top, you'll see a navbar:



Clicking "tumblr." will bring you to your dashboard.

Clicking "Dashboard" will bring you, you guessed it, to your dashboard.

Clicking your user name will bring you to your "blog" page, for editing posts, seeing who's tracking you, etc. See below for more.

Clicking the plus sign will let you add a new blog. I've never done this, but from what I understand, you can have multiple blogs all tied to your main account. I can see a few good uses for this right out of the box:


For RPGs -- incredibly handy

For what would be "filtered posts" on DW or LJ -- something like all your vacation photos, all your Etsy stuff, all your posts about your health or your family, etc. People could follow either just the "filter" blog, or just your main blog, or both, depending on what they were interested in.



Clicking the envelope will take you to your inbox, which collects any and all messages sent to you (questions, submissions if you have a blog that allows submissions, and "fan mail", which I guess is their version of private-messaging...)

Clicking the power button logs you out. It is a little annoying that they put that right next to preferences, let me tell you.
I didn't label the help button and the preferences button because I figure people are already familiar with those icons.
This is also where you find the icons that let you post things:
You just pick whichever type seems most like what you want to post, and it will bring you to a tailored posting page where you can add your content. This is one of the hardest things for me to adapt to; I'm used to having more manual control over how I post. But the individual post types is how this platform works best, so.
The default is for posts to be made using Rich Text; if you'd rather use plain text with HTML, you can change it in your Preferences, using the gear icon in the top navbar.
Your "blog" page
This is good not just for editing your posts, but also to see how other people are interacting with you.
It will show who's started following you, who's liked one of your posts, who's reblogged one of your posts; this is also probably where Ask questions show up, but I don't know because I haven't used that yet.
As well as the top navbar that it shares with your dashboard page, you have a completely new side nav bar on this page:
Navigating other people's tumblrs
On other people's tumblrs, you can scroll back through their posts, you can follow or unfollow them, or you can send them a message (if you're already following them).
To go to someone else's public page from a tumblr page (your dashboard, a list of notes, etc.), click on their icon or username.

To follow their tumblr, click the "Follow" button in the upper right corner. It will turn into an "unfollow" button.

To stop following their tumblr, click on the "Unfollow" button in the upper right corner. It will turn into a "follow" button.

To send someone you follow a message, click on the email icon in the upper right.

To return to your own dashboard from someone else's page, click on the Dashboard icon in the upper right corner.
A closer look at other people's tumblrs, with visual aids
Buttons on the page of someone you're not following:
Buttons on the page of someone you are following:
Buttons on someone's page when you're not logged in to the site:

If you're not logged in, clicking either of those buttons leads you to a "sign in / sign up" page. The Follow button will presumably mean that you'll be following that person once you've finished signing in or signing up; the Join tumblr button will list that person as the referrer for your signup.
Finding things on someone's page
Every user should have a search box somewhere on their page, where you can try searching their tags, but you'll need to guess at what those tags are, and get it right. Partial tags won't pull up any results, nor will tags that contain other tags (e.g., searching for "play" won't bring up posts tagged "cosplay"; likewise, searching for "avatar the last airbender" won't bring up posts tagged "avatar").
This is me, putting out a plea for people to install the tag cloud script. *puppy eyes*
If the person uses tags, you can click on a tag on one of their posts while you're looking at their page, and it will bring up all their posts with that tag.
(Note: This is different than clicking on a tag as it goes by on your dashboard, which defaults to bringing in all uses of that tag across all of tumblr. If you're looking at a specific person's own tumblr, you'll only see their uses of that tag.)
This is me, putting out an even bigger plea for people to use tags. *PUPPY EYES*
Navigating posts
Posts have several different elements.
This is a random post from my dashboard, so I can walk you through what all the bits are:
Now to break that down:


The name of the poster or reblogger. Clicking on this will bring you to their Tumblr (as will clicking on the icon that's next to the post).

The number of "notes" on the post; this is a combination of people who've "liked" the post and people who've reblogged it, with or without adding their own comments to the post. This tallies up all the likes and reblogs of the original post, not just the ones in the "thread" that you're looking at.

The button to push if you want to reblog the post to your own tumblr. You can reblog with no added context, you can add tags (for the love of god, add tags), and/or you can add a note of your own to whatever the content is.

The button to push if you want to "like" the post.

This particular post is a photo post; this is the photo part. *g* I have my tumblr set to show minimized versions of images; this picture is clickable on my dashboard to make it larger (which also pushes the text down below it). Most images on tumblr can be clicked.

Text to go along with the photo! People don't always include that; sometimes it's just a photo alone, or with a brief one-line caption.

Link back to the original source, put there by the poster.

Link back to the original source, put there by Tumblr. Sometimes this links to an external site, if someone has decided to share something on Tumblr (like this picture came from a newspaper); sometimes it links back to a Tumblr user's post, if someone uploaded an image themselves, or otherwise made a post that didn't draw on an external source.

Tags. Clicking on a tag in a post on your dashboard will bring you to everything on Tumblr that has that tag attached. This is different from looking at a user's own tumblr, where clicking on a tag brings you to all of their posts that use that tag.
And the red circle at the top right, which I'm sorry I had to do so kludgily:
Hover over that spot to turn the corner down and get a mouseover timestamp.

Click that spot when the corner is turned down to get the permalink version. No, seriously, that's how you do it.
There are also a couple of other elements that may appear on posts, which allow different kinds of responses.
One is a little speech bubble, which allows you to reply with text, under certain conditions. (
See the explanation for replies below.
) Your reply will be added to the Notes on a post without your having to reblog the post.

The other is a camera, which means that the poster has allowed photo replies to this particular post, and if you click it, you'll be taken to a browse window that will let you select a photo on your computer to upload in response to the post. (I have no idea where the photo appears when you do that, though...)
Notes: likes, reblogs, and replies
The "notes" feature is the thing that's most unlike platforms I'm more familiar with, and I'm still poking at it sort of gingerly. But here's what I've got so far.
If you want to think of it in terms of comments on a journal post, everyone who "likes", replies to, or reblogs directly from the original poster is leaving a top-level "comment". Reblogs take it one step further by potentially creating a new "sub-thread" as people respond to them rather than the original poster.
Everyone looking at the notes to a post can see whoever responded, and how they responded. You can even get a quick feel for how much a post is being liked vs. reblogged by scanning the right-hand side of the notes to see the icons:

What you can't do is respond directly to the notes; you can only respond directly to the post you see, by adding your own note, in whatever form you prefer.
Likes
Liking a post is -- okay, this is alien to me, although I'm trying to adapt. As I said in my giant fannish history post, to me that sort of thing is noise, not signal, and I'm a little baffled by it. Clicking like doesn't add any substance at all, and I just... don't get it. On a "like" level. *hands*
It helped once I figured out that all "likes" get added to the main notes for the original post, so the original poster can see that people are responding to what they posted, even if it's not directly; at first I thought that only the reblogger would see the "like", which seemed unfair and made me very unwilling to click the heart.
What I've also discovered, though, is that it's also a form of bookmarking, and
that
makes way more sense to me. Tumblr keeps track of the posts you've "liked", with a link right on your dashboard so you can go back and see what you've listed. So it's also like adding something as a favorite.
(I don't see any way to search through your "liked" posts, so I can see this being a fairly unwieldy way of actually tracking things if you click that little heart a lot, but at least it has a purpose.)
Reblogs
Reblogs are the heart of the tumblr world, as people spread things far and wide. It is really hard to get used to that, but after a while it becomes more normal, and you start to count on it as a way of finding things.
Most reblogs are done without adding anything to the post that's being reblogged. Some also add commentary, or make a change, and any addition gets mentioned in the Notes automatically. So as you're looking down through the notes on something that caught your attention, you can see how people all over tumblr have been reacting to it, which is really kinda cool.
Replies
Replies are much rarer than either likes or reblogs; posters have to have actively enabled them, and only certain people are allowed to make replies even if they're enabled (in what seems to be a spam-fighting effort).
I'm not positive, but I don't think they allow for much in the way of back-and-forth chatting.
But still, it's a nice way to be able to leave a public comment on something you like, without having to reblog it if you don't necessary want the whole post on your own blog.
I could easily see this as a way for socially anxious authors, who don't like the pressure that comes with having to reply to comments, to open up something for comments, knowing they'd only be one-way (and limited to a specific audience, which might cut down on drama -- people would have to actively choose to follow her before they'd be allowed to leave a reply).
Finding content
There are a few ways to find content on tumblr.
You can just follow links other people send you -- email, dw/lj reading pages, etc.

You can follow specific tumblrs, either via rss feed or via your tumblr dashboard

You can search tumblr tags
The first two are things that work the same for everyone, logged in or not; it's easy to get an rss feed for any tumblr (there should be a link right on the front page of whatever tumblr you're interested in, and there are a bunch that already have feeds on dw).
The third works slightly differently depending on whether you have a tumblr or not.
If you don't have a tumblr, use the search box on tumblr.com's front page to search for content that uses a specific tag.

You can find it under the list of popular tags and the list of featured users.
Alternatively, you can also bypass the search box entirely and go straight to the address bar, and type the tag in you want:
http://tumblr.com/tagged/YOURTAG
This will bring up a stream of things tagged with whatever you've picked.
If you do have a tumblr, though, searching is what makes tumblr kind of great. The search box you'll use sits on your dashboard (and blog page):
Type in whatever tag you want, and tumblr will return all posts tagged with that across the entire site. So let's say you just watched this obscure little movie called Avengers, and would like to see if anyone has anything to say about it. You type avengers into the search box and hit enter:
and two things happen. First, your dashboard turns into a stream of just things that match that tag, and second, the tag will show up above the search box, with an option to track it:
Click on "track", and the tag becomes permanent; as you track more tags, you'll wind up with a list above the "search tags" box on your dashboard. You can click on any tag to pull up its stream of posts.
You can always tell if there are new posts that use a given tag; it gives you a number next to the tag name, although it stops at 10 -- anything over that says "10+" next to it, so you know you'll have things to look at.

If you want to stop tracking a tag, just click on the tag name, and an x will appear in the corner; click the x, and it will ask if you want to stop tracking.

You can track as many tags as you want, as far as I can tell.
Tumblr is pretty good about trying to find you content that relates to your tag, even if a specific post doesn't use your specific tag.
One big downside: you can't track pairing names with slashes in. Tumblr will return an error page.
You
can
just type in both names in a pairing, and that should bring you posts that list both of them, but it's not necessarily going to be in a pairing way.
Some people tag pairings by just leaving the slash out -- e.g., tonybruce rather than tony/bruce -- or by going the anime route and using x's -- e.g., tony x bruce or tonyxbruce -- but that doesn't seem to be consistent.
But again, really, tumblr tries hard. It must be running all sorts of matching in the background. I just typed in a search for "science bros" to see if I could get Tony&/Bruce stuff; the first post was tagged "#i draw stuff" and #the avengers", used the name "Bruce" in the post itself, and was a drawing of Tony and Bruce (but Tony's name wasn't anywhere on the post, or on any of the notes attached to the post). It's actually sort of baffling how it knew that this was the right content for my search, but hey, there you go.
It also brought up posts tagged "stanner" or "science boyfriends", and that tagged both Bruce and Tony.
So tag searching will likely get you at least
something
you want to see. But it's also safest to search for a few variants so you don't miss stuff.
Producing content
Well, "producing", anyway, since tumblrs are full of not just new blogged content but also reblogged content.
New content
There are three ways to get new content onto tumblr.
Via your tumblr itself
Your
Dashboard
and "blog" page each have a posting navbar you can use to create posts:
The posting page is laid out differently than DW/LJ/delicious/pinboard/AO3, etc.: the post itself is created on the left, and the controls for publishing date, tags, etc., are over on the right.
It's ridiculously disorienting at first not to have the tags field below the post, or at least it was for me. But please use tags. <3
Post via bookmarklet popup in your browser
If you don't want to always have to go to tumblr to make a post -- say you just want to reblog a youtube video, or a picture you found somewhere, or a link to a story you just wrote or are reccing, whatever -- there's also a
bookmarklet you can use to post from
on tumblr's Tips page. Just drag that bookmarklet to your browser, and you can click it on any webpage you're lookging at.
It will bring up a popup version of the multi-function posting interface; pick the format that matches what you want, fill it in, and post.
Visual aids!
The popup will default to "Link" as the format, filling in the title and URL of the page you're on, but you can choose any of the others as well, and the popup will try to fill in what it can (e.g., if you pick Photo, it will try to find an image on the page).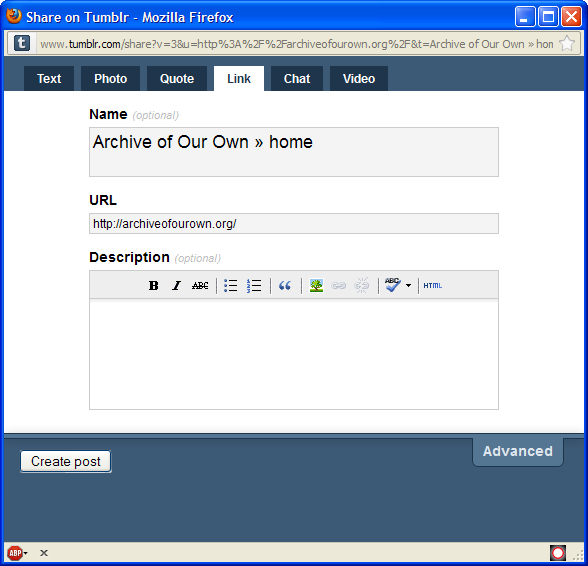 If you click advanced, you can choose when to publish it, add tags, etc. Then just click either "create post" to post it, or click "Advanced" again to go back to the first screen to finish tweaking whatever you need to, and hit "create post" on that screen instead.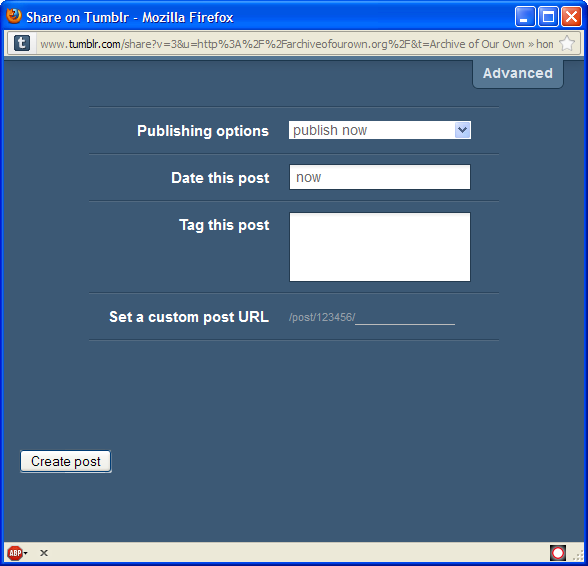 Post via email
On your blog settings page (http://www.tumblr.com/blog/YOURNAME/set
tings), you will find a randomly assigned email address. You can use that address to mail posts to tumblr, and it works like a dream (at least in limited testing *g*).
If you email a photo, tumblr automatically strips out all the identifying info, so you don't need to worry about anyone tracking your location that way. Which makes me really happy, personally.
Tumblr's help page on email-publishing
-- hard to find, but very useful, and clearly written, with specific instructions on each kind of post.
As I mentioned earlier, this is one of the hardest things for me to adapt to; the idea of picking different types of posting templates depending on content is just strange to me. And at first I couldn't cope; I just wanted to put everything in a text post, and code in whatever I wanted to add by hand.
I'm slowly coming around to this, though. Different types of posts get formatted differently.
The default is for posts to be made using Rich Text; if you'd rather use plain text with HTML, you can change it in your Preferences, using the gear icon in the top navbar.
You can post anything you want; the vast majority of tumblr posts are pictures, but people also post episode reviews, fanfic, recipes, you name it.
Cut tags
Okay, not really, but they serve the same purpose. When you're typing up a text post, you have the option to hide some of the content behind a "read more" link.
The icon is a little page with a bar through it, between the spellcheck and HTML buttons.
Many people on tumblr seem not to know or care about this button, which makes tumblr a dangerous place for spoilerphobes like me -- I can't go near it until I've seen the current episode of something, and avoided it like the plague for the several weeks leading up to the Avengers.
But hey, the option is there, if you want to use it.
Queued posts
You can set a publish date for any post (the field that says "publish now" is a drop-down, with multiple options), and queue them up to be released later. I haven't tried this yet, but it seemed worth mentioning. *g*
Reblogging
First and most important if you're new to tumblr and don't like making mistakes that people can see (why yes that would describe me): clicking reblog does
not
immediately reblog something. You can safely click the button just to test things!
Once you click it, you're brought to a posting page, basically, that contains all the existing information for the existing post. You can add a comment to the text box (which will be called different things, depending on how the original post was made -- it could be "post" [for a text post, which may or may not contain pictures as well] or "description" [for a link post] or "caption" [photo or video post], etc.). Over on the right, there's space to add tags and tweak a few other things.
It won't actually reblog to your page until you're satisfied and click "Re-blog post" at the bottom of the page.
Reblogging is hugely popular and is how things spread; it's also how people have a conversation, unwieldy though that seems to me.
But! I did finally get a handle on the stacked-up text (and sometimes images) that you see on something people want to actually add their voices to. It's basically the same thing as people bottom-posting to a mailing list, without trimming any of the existing material. You can follow the line from a name down to what they said (or vice-versa); the line ends at the bottom of their comment.
You can add your comment to a thread as a general response just by reblogging and saying whatever you want in the text box; it will appear on your tumblr with text at the bottom, with no line attached to it (because your name is the furthest outside -- again, think of the lines as the steadily-increasing >> that emails have as replies build up, with the newest text not having any attached at all). If someone reblogs from you, the line will be attached to your name automatically in their copy of the post.
If you want to respond
directly
to someone further up the thread, you can click on their name in the thread, and it will bring you to what they reblogged, which you can then in turn reblog and respond to.
I've done this at least once just to get rid of a gif that someone had posted in reply to something; I didn't like it so didn't want it on my copy of the post. So I clicked the name one level up from that person, and reblogged from there. (I could also have gone into the post itself and deleted the attribution and gif, but I have no idea if that's cool to do in tumblr culture; I suspect it's not, though, and would rather just take the extra step of bypassing the stuff I don't want.)
Avoiding content
Tumblr is really, really noisy. There is a lot going on, all the time. You are not going to want to see all of it.
Block users
If there's a user whose posts you don't want to see on your dashboard, you can block them. I've never done this so I'm not sure how kill-file-y it really is, but the block option exists, at least.
If you see their name in a Notes list, you can hover over it and a link to block them will appear.
Alternatively, you can go to the Block Users page (
http://www.tumblr.com/block
) and enter their name.
That page is also where you unblock people, if you change your mind.
Block subjects
More likely, you'll want to avoid specific topics, which is not possible using tumblr tools.
Happily, though, someone else has come up with a method to avoid things, at least on some computer browsers (mobile users, you are entirely out of luck, I think - it's the curse of extensions not being usable on mobile platforms). This works on Firefox if you have
Greasemonkey installed in your browser
, or on Google Chrome (natively, I think).
What you want is
Tumblr Savior
, which is a Greasemonkey script that lets you block specific terms or tags from appearing on your dashboard.
So let's say you can't stand superhero stuff, and this obscure little movie called Avengers is driving you batshit because you can't get away from it. Here are three simple steps to take:
Read the instructions on how to use Tumblr Savior do NOT skip this step!

Edit the Tumblr Savior script as the instructions explain, replacing the example banned and whitelisted terms in the script with your own terms, like, say, '#avengers', '#tony stark', '#rdj'
After you've saved the script, Tumblr Savior will start working, and when it comes across a post that includes terms you've said you don't want to see, you'll get a cheery little "post" like this on your dashboard:
Note the useful "click here if you cannot resist the temptation", which allows you to see the post if you really want to.
Tumblr savior is awesome. (But remember, it's browser-specific, not tumblr-account-specific; if you read tumblr on different browsers, you'll need to install Tumblr Savior on all of them, and edit all the scripts to include the terms you want to block.)
It is also a very good reason to tag your posts properly, especially for things like spoilers.
Communicating with people
This is the part I'm least certain about, and hopefully the comments will point out where I'm getting things wrong, or missing crucial bits.
Tumblr is really a microblogging platform rather than a full blogging platform, meant for quick little posts that fly past rather than long discussions that linger. So direct communication is a bit awkward.
Reblogging
Reblogging seems to be one the primary way to have a conversation on tumblr; people add their comments to the body of a post as they reblog it, and that can either be back and forth between two people, or stretching out down a line of new rebloggers as the post moves along.
You would need to have email notifications for reblogs turned on in your preferences for the back-and-forth conversation to work, I think.
When you reblog something, it shows up in the (collective) notes on the post as "[yourname] reblogged this from [person you reblogged from]", with a reblog icon next to it.
If you add something to the post when you reblog, the note changes to "[yourname] reblogged this from [person you reblogged from] and added: [whatever text you added]"
Reply
This seems to be a new-ish feature, and is one that needs to be enabled by the user; it's not the default setting. You enable it in your Settings (http://www.tumblr.com/blog/YOURNAME/set
tings ), and replies are restricted to either people you follow, people who've been following you for two weeks, or both.
If someone has Reply enabled and you're one of the people allowed to make a reply, you'll see an extra icon in their posts, between the Notes and the Reblog icons.

If you click that, a box will open up that you can type into, and your reply will show up on the notes to the post, along with people's likes and reblogs of the post, as "yourname said: your reply text", with a little speech bubble icon next to your remark.
It means you can leave a public comment without reblogging, basically.
Ask
The Ask function is designed specifically to send questions to people. They can answer either publicly or privately (... I think. Commenters?)
The blog owner has to have enabled this for you to be able to use it. There's an option to allow anonymous Asks as well (for non-logged-in folks), but not everyone will have that turned on even if they have Ask itself turned on.
You can find the Ask box by going to the person's page and looking for the Ask link.
Or hover your mouse over their icon in your dashboard until a tiny little information "i" appears in the lower left quadrant; if you click on that, you get a mini-menu to Ask them a question (if they have it enabled), send fanmail, or unfollow them.
Send fanmail
Sending fanmail appears to be the basic "send a private message" feature. You can only send a message to someone you're already following; they don't have to be following you back. (I have no idea if they can reply to the message if they're not following you back, sorry!)
To send a message, click the little envelope at the top of their page:
Or hover your mouse over their icon in your dashboard until a tiny little information "i" appears in the lower left quadrant; if you click on that, you get a mini-menu to Ask them a question (if they have it enabled), send fanmail, or unfollow them.
Leaving comments on a post
There's no native way to leave a comment on tumblr. If you want to allow people to leave direct comments (rather than adding commentary to a reblog of your posts), you need to install
a third-party commenting system called Disqus
.
Because this is a third-party feature and commenting isn't the norm on tumblr, most posts you see won't have an option to leave comments.
Annnnnd I think that's it. Hopefully people will stop by and correct any errors!
Also, I would love to see pointers to people's favorite tumblrs, to help folks get started once they're set up!
A million thanks to

therienne
and

mollyamory
, who betaed the first draft of this when I sprang it on them out of nowhere, and pointed out broken images and incoherence like champs. ♥ I've added more since then, and any remaining incoherence or bustedness is all on me.